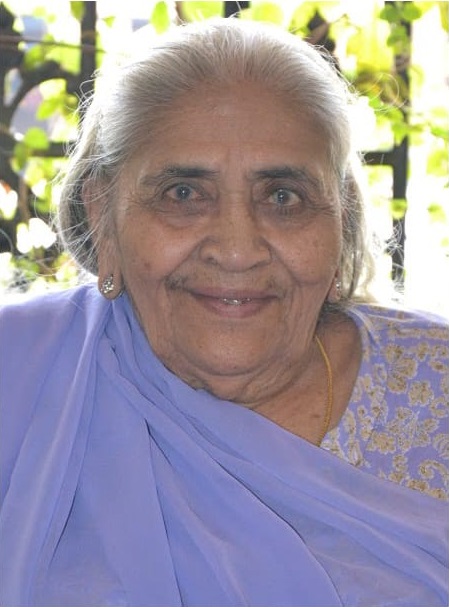 Mrs. Sarojdevi Purshottamdas Purohit
25 Mar 1922 - 25 Jul 2020
Education: Others
Occupation: Home Maker
Personal Details
Birthday:

25 Mar 1922

Nationality:

Indian

Caste:

Rajpurohit Brahmin

Office:

Adarsh Hotel, 262, Kalbadevi Road, Junction P. H. Purohit Marg, Mumbai, Maharashtra
Passed Away On:

25 Jul 2020

Religion:

Hindu

Native Place:

Basant, Pali, Rajasthan

Home:




Hotel Adarsh Palace, 118, Old Hanuman Lane, Kalbadevi Road, Mumbai, Maharashtra
Life Summary
Wife of Shri Purshottamdas alias Rawatsinghji H. Purohit belonging to a respectable family of Rajpurohit Brahmins in village Basant, District Pali, Rajasthan and owner of the chain of Adarsh Group of Hotels.
Click here to know More
Tributes
I was not expecting you'd die so soon. You are always in my heart. I love you so much I wish you come back to me.
Aap meri Shakti ho hamesha mere sath rahna
You will be in my heart,forever.
Maa aapko shat shat Naman.
Har jeevan me aap hi meri maa rahe. Shat shat naman
You were the strongest person I've ever known, & I really hoped I could've met you one last time! Rest In Peace 🙏🏻🙏🏻🙏🏻
Remembered By
Sons & Daughter-in-laws:
Prithviraj - Sangeetadevi, Vinodkumar - Ushadevi, Ghanshyam - Sushiladevi, Jagdish - Rajshree

Daughters & Son-in-laws (Native):
Geetaben - Bhawarsinghji (Mada), Dr. Shobhaben - Late Dr. Bhawarsinghji (Mada), Radhaben - Ajitsinghji (Teori)

Grandsons & Granddaughter-in-laws:
Bharat-Vidya, Manish-Priyanka, Vikramsingh-Anshu, Karansingh, Sanam-Teena, Sangramsingh-Dr. Krishna, Ashutosh

Granddaughters & Grandson-in-laws:
Hemaben-Mahendraji (Mohanji, Mada), Meetaben-Jayakrishnaji (Rajanji), Pritiben-Pareshji, Mansiben-Pranavji, Nikitaben-Manishji, Poojaben, Heenaben

Great Grandsons:
Digvijay, Dhananjay, Aaryan, Dev

Great Granddaughters:
Riya, Alisha, Naayra

Great Grandsons & Great Granddaughters:
Pushpa - Late Pravin, Mahesh-Ranjana, Pritam-Pratibha, Rahul-Sonal, Umravsingh (Raja)-Sukruti, Nakulsingh (Sunny), Varsha-Niteshji, Rinku-Abhishekji, Prakash, Rohit-Heer, Atisha, Kanishk, Manav, Divyanshu, Rivan, Kiyan, Varun, Abhijay, Riddhima, Prisha and Avirat.